Environmental devices and automated facilities required for the 21st century
The most important function for Kusano, with its long history as a specialized trading company in casting industry, is to answer the needs of customers in an appropriate manner.
Keeping in mind the key social issues of the 21st century, such as global environmental problems and aging society with low birthrate, we make proposals to our users focusing on pollution control machineries and automated facilities needed in the each individual casting process.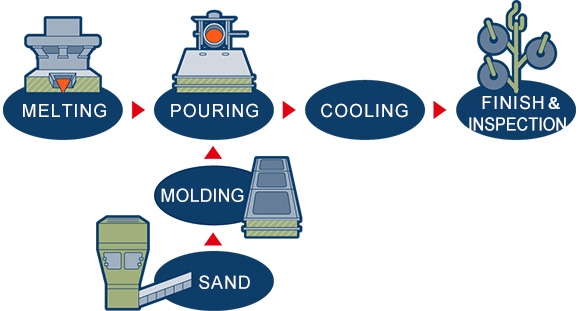 Melting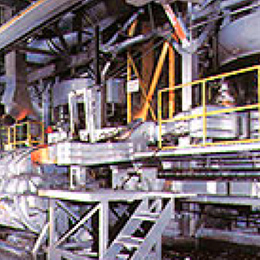 Cupola Furnace (with dehumidifying facility & holding furnace)
By utilizing heat emitted from cupola, cost of coke can be reduced and at the same time the amount of molten metal can be increased, and enable the low-cost production. Furthermore, uniformity of metal composition can be obtained and stable quality of molten metal can be extracted.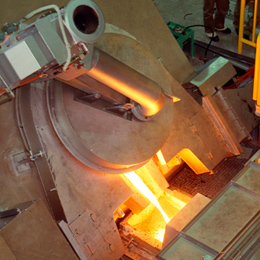 High Frequency Induction Furnace
A variety of materials can be melted at high speed and high value-added cast iron can be extracted by stirring action. The system is capable of adjusting the composition and temperature, and can achieve production of many models in small quantities.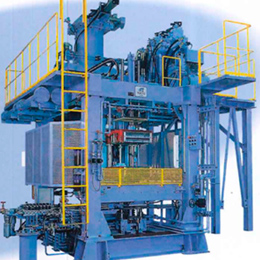 Molding Machine
Molding machine which uses bentonite as and adhesive agent. This molding machine is relatively used for producing small products.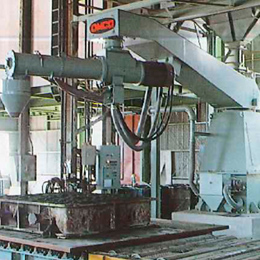 Furan Self-hardening Machine
Machine which uses furan resin as an adhesive agent. It is used in case product size becomes larger than molding method's capacity.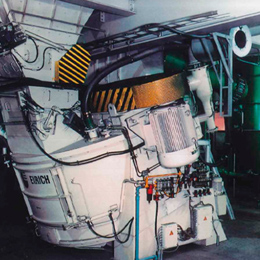 Sand Mixer
Equipment for kneading sand, bentonite, water, starch and coal powder.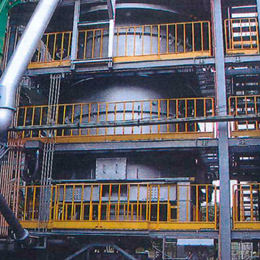 Sand Regeneration Device
The photograph shows a sand regeneration system using a fluidized bed furnace. Regenerated sand is roasted to remove the binder from the sand and return it to fresh sand state.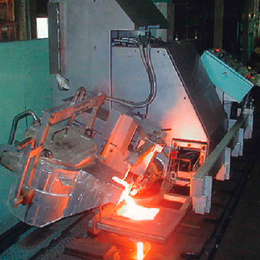 Pouring Machine
Equipment for pouring molten metal into the mold. There are two types, a fully-automatic type, and a semi-automatic type in which pouring is manually operated.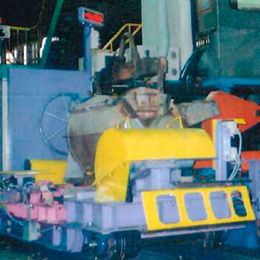 Molten Metal Handling Equipment
Molten metal extracted from the melting furnace is automatically transported.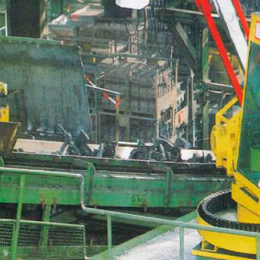 Manipulator
This machine assists heavy duty operations such as taking out products.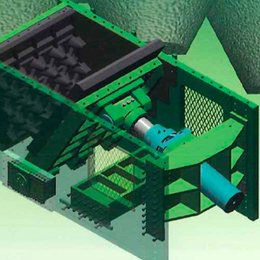 Gate Cutter
After separating from the product, the runner and weir are crushed into small pieces and reused as a return material at the melting station. Crushing the product into smaller pieces improves the material filling density in the melting furnace, which leads to energy saving.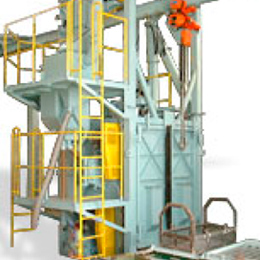 Shot Blast Machine
This device removes sand by projecting abrasive material onto the object.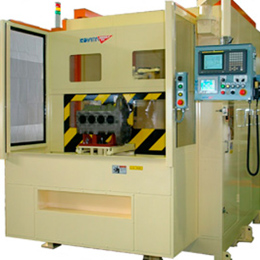 Deburring Machine
This equipment automatically removes casting burrs using a grinder.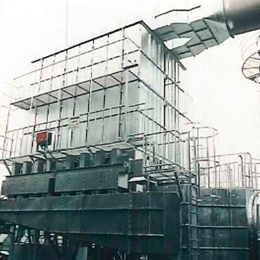 Dry Dust Collector
This is a dust collector unit with a bag filter inside.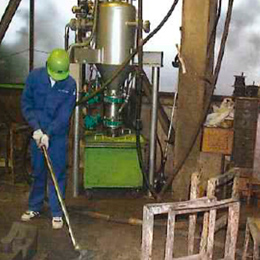 Central Cleaner
This device is a large vacuum cleaner.